Lynn & Paul's Woodland Wedfest!
01/08/2018
Lynn and Paul had their ceremony in the beautiful woods at Scraptoft Hill Farm. It was a boiling hot day, and everyone was so happy to be in the woods for the ceremony as it was wonderfully shady!
Lynn's entrance music was a live version of Ocean Colour Stream's 'The Circle' It was a very magical moment when Lynn made her entrance through the woods, led by her flower girls.
It was a very personalised ceremony, which included the telling of Paul and Lynn's love story, the traditional exchange of rings and vows, and also a very beautiful handfasting.
There was lots of music in the ceremony, including the couple singing their own words to a backing track of Toots and the Maytal's 'Pressure Drop', and everyone singing Bob Marley's 'Three Little Birds'.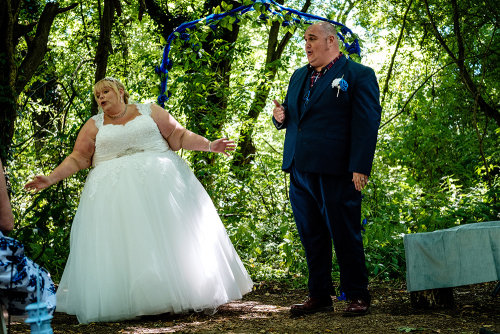 The ceremony was followed by a reception where several Ska bands played.
Photographs by Owain Turner