Charlotte & Michael's Idyllic Garden Wedding
03/11/2017
The weather turned out fine for Charlotte and Michael's wedding in Charlotte's parents stunning garden in Willoughby on the Wolds, Leicestershire.
Charlotte had helped her friend Jim make a beautiful wedding arch from branches a few months earlier, and by the time of the wedding, it was covered with sweet peas and other colourful flowers.
It rained the night before the wedding, but on the day the garden had been completely transformed with hay bales, bunting, large origami cranes hanging from the pear tree, big pink flamingos dotted around the lawn, and countless other decorations. Everyone involved had made something! There was also a meadow for camping at the bottom of the garden.
The local village choir, which the bride's mother sings with, started off the ceremony by singing some beautiful madrigals, and the bridal party entered to the rather upbeat Tom Jones 'It's not unusual'!
The personalised ceremony that I'd been working on with Michael and Charlotte included a handfasting, and two symbolic ceremonies. The first was of the Russian tradition of eating bread dipped in salt, to which the couple added their own version of washing it down with Welsh whiskey in recognition of Charlotte's Welsh heritage. This was followed by the Jewish wedding tradition of breaking the glass. It was very wonderful to be outdoors in such a special and personal setting.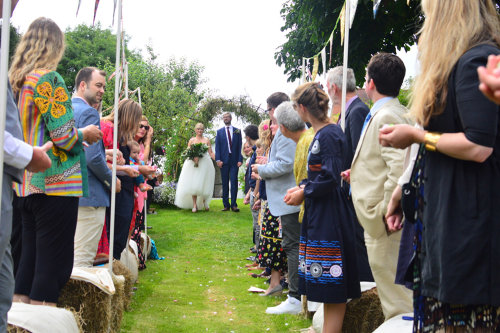 The guests were involved in the ceremony, chorusing 'We do' at several points in the ceremony when they were asked if they would support Charlotte and Michael.
The ceremony had a wonderful balance between being meaningful and fun. Many guests commented on this afterwards. It was also very magical for the couple to have confetti thrown in the garden at the end of the ceremony, followed by drinks and music & fun, all in the same place.
'Evelyn is a wonderful celebrant. From the first communications, to sorting out the finer details of the day Evelyn was patient, accommodating and encouraging. We had many different ideas we wanted to include in our day and Evelyn managed to tie this all together in a very personal ceremony. I couldn't recommend anyone more! Thank you Evelyn for making our day so special.' Charlotte and Michael
And from the mother of the groom!
'Thank you very much for conducting so well Michael and Charlotte's wedding on 29/7. It was moving, loving, funny in places and very meaningful to family and friends. For Richard and me it was a wonderful and joyful ceremony, indeed the whole day stands as one of the happiest in our lives. Thank you so much for your important part in it, celebrating Michael and Charlotte's commitment to each other. Best wishes, Laura (Michael's mother)'